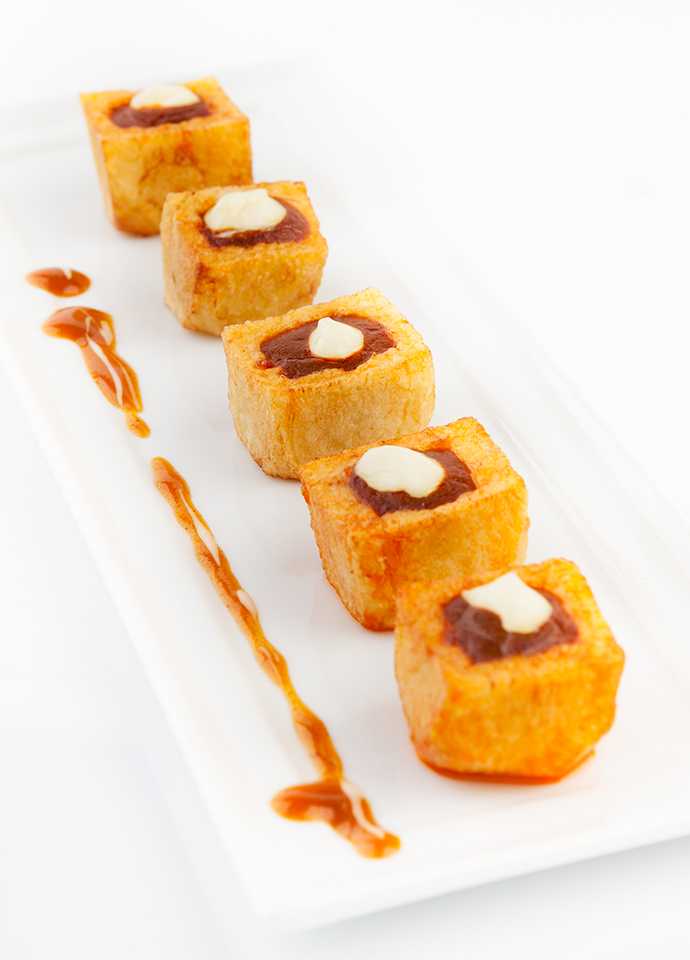 PATATAS BRAVAS (EN)
From the coolest restaurant in the downtown of a major city to the most miserable pub in the middle of the country, you can find "Patatas Bravas" in nearly every corner of Spain. These diced potatoes dressed in a spicy red sauce are one of our most typical tapa. They're the perfect dish to share with friends and family. Some of them are better, some are worst; some of them have a secret ingredient, some have a top-secret ingredient… patatas bravas are almost a religion and every chef keeps his/her own recipe as if it were the Holy Grail. However, we've managed to steal this recipe from the forbidden parchments concealed in our kitchen and bring it to you. It could be considered the "orthodox" recipe (or, at least, the Madrid style recipe) but you can find as many versions as there are towns in Spain.
INGREDIENTS
– 5 medium-sized potatoes
–  olive oil
Sauce
– 150 ml olive oil
– 4 garlic cloves
– 80 gr flour
– 300 ml water
– 200 ml manzanilla wine or fine sherry
– 1 tablespoon of hot pimentón (Spanish paprika powder)
– 1 tablespoon of sweet pimentón (Spanish paprika powder)
-salt
INSTRUCTIONS
First of all, peel the potatoes and cut them into medium-size chunks. Secondly, heat the olive oil in a frying pan and add the potatoes. Fry the potatoes for about 20 minutes, gently at first until they are cooked and then turn up the heat and fry them for 5 minutes until they're golden and crispy. Finally, put them on a platter with some kitchen paper to drain them well, transfer them to a serving dish and pour the sauce over them.
To make the sauce.
Heat the olive oil in a frying pan and add the peeled garlic cloves. When they're golden, add flour and stir for 2 minutes. Then, add the hot and sweet pimentón and stir carefully for 1 minute. Add the manzanilla wine or the fine sherry, the water and salt, then simmer until thick. Remove the pan from the heat and pour the sauce in the mixer. Blend until there are no lumps.
Serve hot and feel bravo (or brava).
I you want to learn how to prepare typical Spanish dishes with the help of a professional chef visit us in www.cookmadrid.com. We will begin by explaining how Madrid absorbed the culinary traditions from all over Spain, then we will prepare the 10 tapas that best explain each region of Spain.